Mission: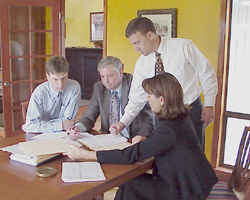 To deliver exceptional client service, outstanding investment counsel and superior investment returns.
At IMS, we focus on value investing. After helping clients clarify their investment objectives and risk tolerance, we implement investment strategies that are both appropriate and effective in terms of meeting each clients investment goals.
We provide actively managed portfolios for a wide range of clients, including individuals and trusts, institutions, foundations, and retirement plans. We specialize in mid-cap value stocks, income-producing securities, and dividend growth portfolios. We also provide dedicated support to financial advisers who use IMS funds in their client accounts.
Founded in 1988 by Carl W. Marker, IMS Capital Management has offices in Portland, and Rathdrum, Idaho. On our web site, you can learn more about our investment strategies, investment process and our professional staff.
We appreciate your interest in IMS Capital Management and invite you to contact us for more information. Simply call us at 503-788-4200.
Sincerely,
The IMS Capital Management Team