Stocks were down ever so slightly for the quarter, as the pace of the U.S. economic recovery slowed, housing markets stalled and European debt concerns shook investor confidence. The S&P 500 Index, which represents the 500 largest stocks in America, lost -0.39% during the quarter. The index stands at +6.03%, on a year-to-date basis as of June 30, 2011, while the IMS Capital Value Fund is up +7.88%.
Gold had a nice quarter, up +4.41%, as the fear, doom and gloom trade gained popularity. Oil lost -10.59% and many other commodities, that had fueled inflation concerns earlier in the year, also fell. Wheat and corn both dropped over -20% from their June highs and the Dow Jones-UBS Commodity Index (19 different commodities) fell -6.7% for the quarter.
In an environment where inflation fears are easing, bonds tend to do well. According to Barclay's Capital, high yield bonds returned +0.77% and investment grade bonds returned +2.59%. Gold, investment grade bonds and U.S. treasuries were the beneficiaries of a traditional "flight to quality" that was not only sparked by the concerns above, but also by the widely-held view that the U.S. government is headed for a collapse or crisis, similar to what has unfolded in several European countries.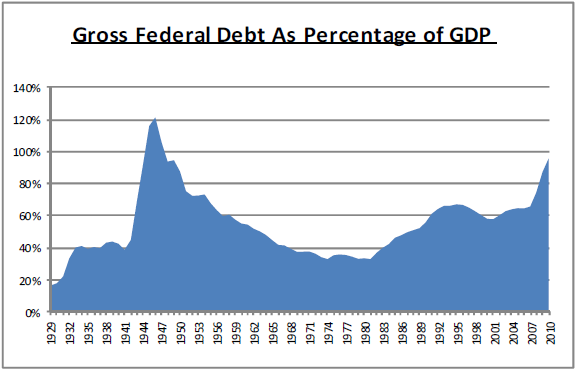 We are of the opinion that this emotional and inaccurate conclusion will provide a much-needed buying opportunity for stocks, as investors over-react to the headlines coming out of the budget negotiations in Washington. The fact is, our government is not going to collapse. We are in the middle of the seasonally slow period for stocks, and during this part of the cycle, the markets look for reasons to sell off. Washington may be providing an interesting side show at the moment, yet the U.S. remains the world's safe haven.
Recently completed auctions of U.S. Treasuries demonstrate there is still ample worldwide demand for our debt, even  though yields are incredibly low. Our economy is the world's largest and generally viewed as the safest. There is a very good chance a deal will be reached on the debt ceiling before August 2, if so, markets should rally eventually. Not because they love the deal, but because it will send a message of change in Washington and progress towards dealing with the national debt. Even if there is no deal, and the deadline passes, whatever temporary panic is caused will be just that, temporary.
Regardless, these are the facts: We are coming out of a recession, stocks are up sharply since 2009, interest rates are low, and most importantly U.S. consumers are in better shape now than they have been in 4 years. They are paying down debt and putting more money in savings. Finally, U.S. corporations are reporting record profitability, as measured by the actual earnings reported by companies in the S&P 500 Index.
A strong consumer and highly profitable U.S. companies, both with low debt – is that really the environment you want to bet against stocks? True, the consumer is spending very frugally. And, true, U.S. corporations are hoarding cash, buying other companies and not hiring. Both are simply holding back due to a lack of confidence in our government and its ability to manage its debt. Once that issue starts to get addressed, we believe there will be a powerful and sustained rally. Its really a question of faith and confidence, and while it may be low now, it can, and probably will, change very quickly.
In the meantime, U.S. companies are rapidly becoming lean and mean machines, capable of generating astounding profits. Rather than hiring more workers and creating jobs, they are buying other, undervalued companies. It is our job to find the opportunities, the stocks trading well below fair value. These stocks are likely to go up in price or get bought out by a deep-pocketed, large-cap acquirer.
Our job is not to pontificate on the dollar, the economy or what's happening in Washington, our job is to find ways to capitalize on the opportunities presented by the stock and bond markets. We call it building wealth wisely. For example, In the last 12 months alone, we've had 12 of the 47 companies we own in the IMS Capital Value Fund either receive buyout offers or become involved in merger, acquisition or takeover discussions. All takeovers have occurred at significantly higher prices than our cost basis. This is just one of the many reasons we choose to own historically undervalued, seasoned, mid- sized companies, in opportunistic industries that have positive business momentum.
In the IMS Strategic Income Fund, we look for reliable income with low volatility and risk. Right now we see the biggest potential risk being rising interest rates, so we are positioned accordingly to mitigate the impact of rising rates. 3 years from now, the primary risk may be something entirely different. We strive to be in the right places at the right times, while providing reliable monthly income. We take on the burden of deciding whether its better to be in investment grade bonds, high yield bonds, short-term bonds, floating rate bonds, international bonds, reverse convertible bonds, preferred stocks, master limited partnerships (MLP's), real estate investment trust (REIT's), business development companies (BDC's) or high-dividend common stocks.
Right now we choose to be about 70% in various types of bonds that we feel will have less exposure, if rates were to go up, than a typical bond fund holding long-term, investment grade bonds. The other 30% is invested in a mixture of REITs, MLPs, BDCs, preferred stocks, and high-dividend common stocks. We believe the threat of rising interest rates is very low until the economy strengthens.
Each of our twelve dedicated employees highly values your business and the trust you place with us. We view our clients and shareholders as partners since we invest right alongside you in the same strategies and funds. Please let us know if there is anything we can do to better serve you. In the meantime, we will continue to identify and capitalize on opportunities as they are presented by the markets.
Sincerely,

Carl W. Marker
Founder, Chairman & Chief Investment Officer
*As of 12/30/2010. Fund inception dates: 1 – 8/5/96, 2 – 11/5/02. FINRA requires disclosures stating one year performance occurred in unusual market conditions for the entire market. Returns show past performance, and are no guarantee of future results. Current and monthly returns may be lower or higher than that above and are available at www.imscapital.com. Investment return and principal value will fluctuate so that your shares, when redeemed, may be worth more or less than original cost. Figures include changes in principal value, reinvested dividends and capital gain distributions.
Small and mid-cap stocks are riskier than large-cap stocks and value and growth stocks may under perform during a given time period. Investing in income trusts such as REITs involve the risk that the underlying business or property may go down in value. Investing in foreign securities involves fluctuation risk and political uncertainty.   Lower-rated corporate bonds have relatively higher yields, yet such bonds carry greater credit risk than investment grade bonds. Share price and yield are affected by interest rate movement as bond prices are inversely related to interest rates and therefore may decline when rates rise.
The general market views and opinions expressed here reflect the opinions of IMS Capital Management and are not intended to predict or forecast the performance of any securities market, index or fund mentioned.A fund's investment objectives, risks, charges and ongoing expenses must be considered carefully before investing.  The prospectus contains this and other important information about the Funds. Obtain a  prospectus at www.imscapital.com or by calling (800) 934-5550. Read it carefully before investing. Matrix Capital Group, Inc.